---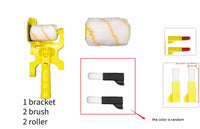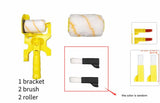 Introducing our Decorative Edge Roller Painter, the perfect tool for adding beautiful and precise decorative finishes to your walls, furniture, and other surfaces. Say goodbye to messy and uneven paint lines and achieve professional-looking results with ease.
Product Features:
✨ Precise and Clean Lines: The decorative edge roller painter features a specially designed roller with a unique pattern, allowing you to create crisp and clean lines effortlessly. Whether you want to add decorative borders, stripes, or intricate designs, this tool ensures precise and professional-looking results every time. 🖌️🎨✨
✨ Easy to Use: With its user-friendly design, our edge roller painter is suitable for both beginners and experienced DIY enthusiasts. Simply load the roller with your desired paint color, position it along the edge or surface, and roll smoothly for a seamless and flawless finish. It's that simple! 🔄🎉
✨ Versatile Application: The edge roller painter is perfect for various projects and surfaces. Use it on walls, ceilings, furniture, trim, or any other surface where you want to add a decorative touch. Let your creativity flow and transform your living space with personalized and eye-catching designs. ✨🏠🎨
✨ Time and Cost-Saving: Save time and money on expensive stencils or hiring professional painters. Our decorative edge roller painter allows you to achieve stunning results on your own, without the need for additional tools or resources. Enjoy the satisfaction of creating a unique and customized look without breaking the bank. ⏰💰💪
✨ Durable and Long-Lasting: Crafted with high-quality materials, our edge roller painter is built to withstand repeated use. The roller provides smooth gliding action, ensuring consistent paint application and excellent durability for long-lasting performance. 🛠️🔝
✨ Easy to Clean: Cleaning up after your painting project is a breeze. Simply rinse the roller under running water and gently remove any excess paint. The roller is reusable and can be easily stored for future use. Effortless cleanup means more time for you to enjoy the results of your creativity. 🚿🧽✨
Take your painting projects to the next level with our Decorative Edge Roller Painter. Achieve professional-looking finishes, add unique designs, and unleash your creativity with ease. Say goodbye to dull and ordinary surfaces and embrace the beauty of decorative painting. Get yours today and transform your space into a work of art! 🎨✨🖌️
Package Includes: 1 Frame, 2 rollers, 2 brushes.